Stackable Educational Montessori Toys for Kids
Product Price
$23.99
Product Review Score
4.47 out of 5 stars
33 reviews
When you order through these links, we may earn a commission at no additional cost to you.
Additional Product Details
【Great Stacking Building Toys Set】The Montessori toys for 2+ 3 4 5 year old set includes 30PCS plastic building blocks for toddlers 1-3 of 5 various bright colors, shapes and sizes. Toddlers age 2-4 can create more than 60 kinds of designs by referring to the guiding manual, and kids age 5+ can create their own designs with their rich imagination.
【Fun Educational Stem Toys】The pyramid stacking blocks for toddlers are designed to help your kids' to develop fine motor skills, inspires your older kids creativity and imagination, and can let them experience fun of the stacking. Great fine motor skill toys for 2 3 4 year old, stem toys for 1 2+ 3 4 5 year old, creative building toys for toddlers 2-4 years.
【Safe and Durable Pyramid Stacking Blocks】Our toddler toys age 1-2 2-4 is made of premium plastic materials. Safe, lightweight and smooth for kids to grab easily and play. !!The white blocks is not suitable for baby playing and put them away when baby playing. Great toys for 2 3 4 5 year old boys girls, sensory blocks toys for autistic toddlers 1-3.
【Sensory Bins for Toddlers 1-3】Bright colors and different shapes of kids stackable blocks toys are perfect for your kids to build early and basic cognition of color and space geometry. Making various combinations with our preschool stem toys also can attract kids attention. Fun kids manipulative toys for preschoolers, kids preschool toys1-3 3-5.
【Ideal Toddler Gifts Toys】Let's building Childrens blocks and enjoying the happy family time with your little one. Sensory building blocks with adorable package will be a awesome daily gifts or birthday gift for toddlers. Perfect educational & Learning toys for 1 2 3 year old boys girls.
Our Policies
Secure Checkout

Guaranteed safe & secure

Easy Returns

Fast & easy product returns
More options on eBay...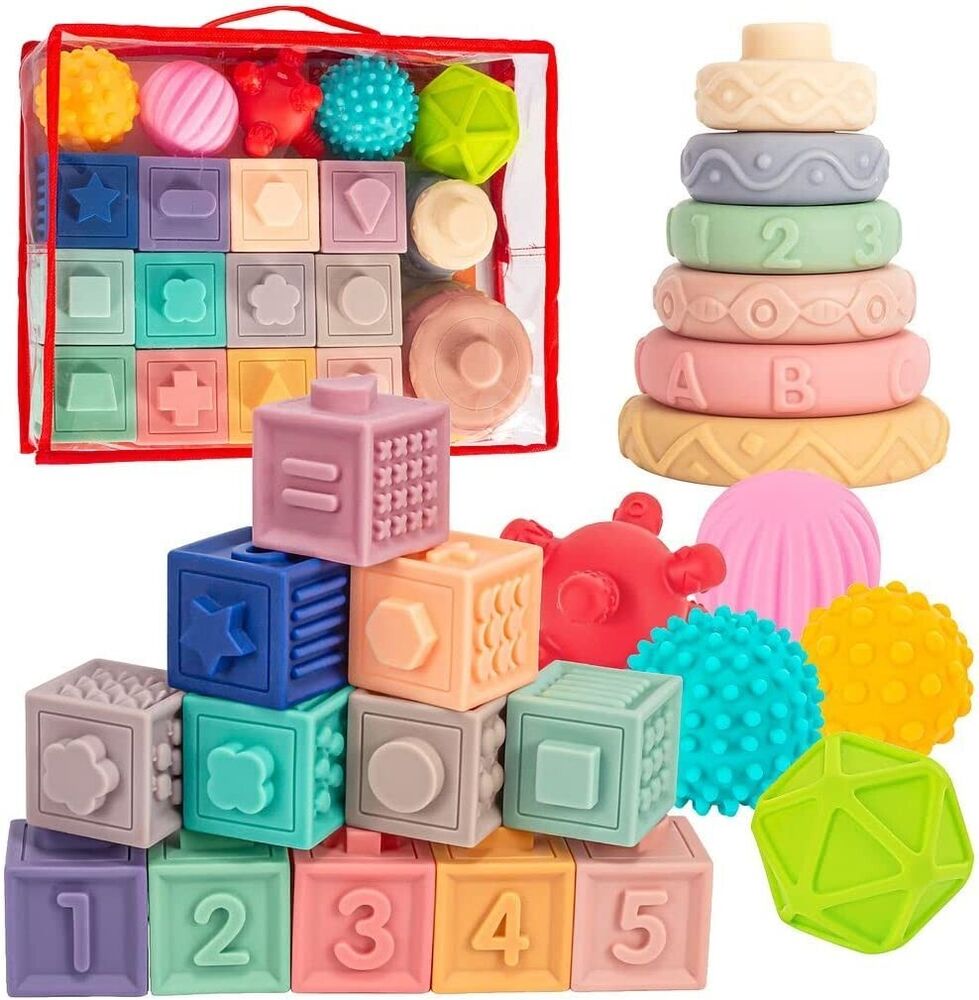 23PCS Montessori Toys for Babies Stacking Building Blocks Infants Soft Baby NEW
When you order through these links, we may earn a commission at no additional cost to you.